Combat Wrestling World Championships - Varna, Bulgaria - August 2015
Getting ready...
        Over the past few months I had been preparing for the Combat Wrestling Worlds. I planned out my training for 3 months and adjusted based on my progress. It was quite an experience to prepare for, as only the champion of each country is able to compete, so every opponent you will face is the very best in their weight class in the country they are representing. I have competed so much, especially in Sambo at the international level, that I felt I would have an advantage over most opponents. I don't get nervous when i compete anymore. It took years to learn how to control the anxiety and 'butterflies' that competitors exerience from time to time. In past competitions I would sometimes get that nervous feeling and other times I would not. I found that nothing is more important than feeling 'on' at competition time. I could write a short book on how I learned to master being relaxed in competition, but, for now, it's something that I have confidence in, the fact that I will be in a peak mental state at match time.
        A big part of my training is avoiding injuries. Leading up to this tournament I eliminated Kickboxing and MMA sparring, as well as Judo and Sambo Randori with a Kurtka/Gi. Another important aspect of my training is to not over train. The internet is full of memes about people 'crushing' training, or training like there is no tomorrow, and other stuff about "leaving it all in the gym". There is no need, in my mind at least, to train to the point that you can hardly move the next day. It will negatively affect performance. To me, it's like training a racehorse by running it to failure everyday, or to increase demand on it until it's at a breaking point by stacking weight on it's back. Although I know nothing about horses, let alone training them, this seems counter productive. Wouldn't it be wiser to run the horse just hard enough that it wants to do more, but deny it from running to exhaustion, so it wakes up wanting to push itself more? So it looks forward to training the next day? Training does not have to be a painful breaking point experience. Breaking your body down so your weary mind has to overcome physical fatigue and exhaustion almost daily is a recipe for injury and disaster.
Training and diet....
     From the paragraph above it may seem that I am against training hard, but that is not the case. I just don't like to glorify extreme training, especially to new people just starting out. A new student to grappling should not do the workouts of experienced grapplers and competitors.  Combat Wrestling is 5 minute matches, so I would grapple for 5 minutes, take a minute break and go again right away. The idea is to condition the body to go hard for 5 minutes without having to slow down the pace. My training went roughly something like this, 2 hours of grappling 5 days a week. Weight training 3 times a week,  non grappling cardio 3 times per week (stationary bike, other sports). I also taught 10 to 15 classes per week which allowed for additional light workouts and stretching. My diet was high protein, moderate amount of fats, low carb, very little sugar. Meals/snack were every 3 hours. 1 cheat meal per week was required. With fairly strict diet discipline I went from 214 lbs to 205 lbs in about 6 weeks.
The Team and weight cutting.....
    The night before Team USA left for Bulgaria, we all met at New York Combat Sambo in Manhattan for a team meeting and workout. Although we were a team of 5 competitors and 2 coaches from around the United States, we seemed to all get along, share techniques, and started to bond as a team. We were going to spend the next week together, without any of our friends or family nearby, in a strange country, with only each other to count on. I have known the head coach, Stephen Koepfer for well over 10 years and have spent endless hours training together. Stephen is also the  first person to introduce me the martial art of Sambo. USA Team member Denny Lenormand from New Orleans is another Sambo practioner that I have spent time with at competitions and is a student of my good friend Reilly Bodycomb. The other team coach, Tim Kuth, as well as the other 3 competiors, Roli Delgado, Kevin Sniff, and Morgan Bracken, I had only met briefly at the USA Team Trials back in April. Although I had seen Roli Delgado fight on The Ultimate Fighter and then in the UFC a few times. It was good to have a UFC veteran on the team.
   Weigh-ins were to be on Friday, the day before the tournament. We arrived in Varna, Bulgaria, on Wednesday morning. The week of competiton I was drinkink alot of water and limiting sodium. The idea is to get your body used to flushing water and not to retain water. The last 2 days I began to limit my water intake in preparation for the final weight cut. The morning of the day of the weigh ins i was 203 lbs and needed to get to 198 lbs. I drank a little coffee and sipped some water until about 3 hours before weigh ins. I did not have access to a sauna or exercise equipment at the hotel, so i planned to cut weight in the hotel room. I turned the hot water in the shower on to rasie the tempeture of the room, I then put on 2 t-shirts, a sweatshirt, anda pair of shorts under exercise pants. I always bring resitance bands away to tournaments to warm up with, but in this case it was to be used for exercise to move my body to break a sweat. Along with the bands, I did wrestling drills with Coach Tim Kuth and Roli Delgado, who both hungout and supported me during the weight cut. After about 2 hours of constant moving I made it to the goal of 198lbs. It was by far the easiest weight cut I had ever done. i did not feel drained or tired but was fairly thirsty and hungry. After going to the venue and making weight, I immediately began to rehydrate with water and coconut water.
Competition day.....
    I feel I did good, I made it to the finals and lost 4-1 to a very high level freestyle wrestler from Bulgaria named Nural Nazmiev, who was just in Sweden for several weeks helping Alexander Gustaffson with his wrestling in preparation for his UFC title fight with Daniel Cormier. Yeah, he is that good, and I am honored to have had the chance to compete against him. I did many things right leading up to and competing at this tournament. My diet, nutrition, training, and weight cut was just about perfect. On the mat, I felt no pressure, no anxiety, and was supremely confident. Technically i did many thngs well, I threw an opponent with an Uchimata off of a single leg attempt that won me a match in over time. I avoided giving up pin points vs the best wrestler I have ever competed against, so that is a small victory, even in a match I eventually lost.
All in all, it was a great experience, I got a silver medal for my efforts. Thanks again to everyone who supported me and the rest of the team!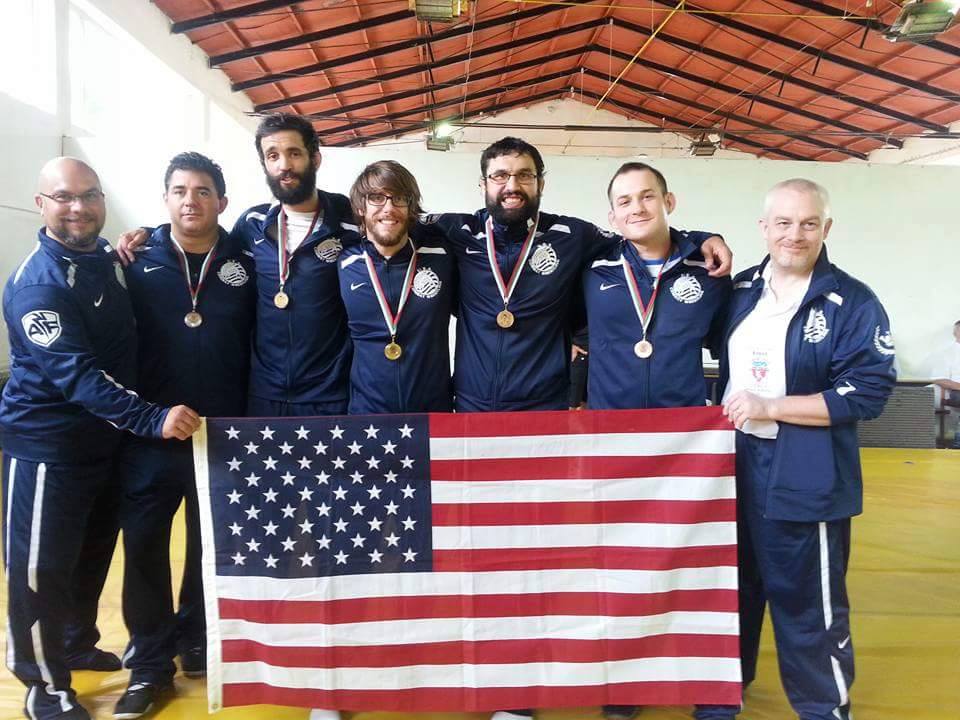 Team USA after World Championships 1 gold, 2 silver,  and2 bronze medals. The only country out of 13 countries to have every team member earn a medal!
Competitors Mathew Kaiser (Canada), Adam Lindop (Great Britain) and Anthony Sansonetti (USA)