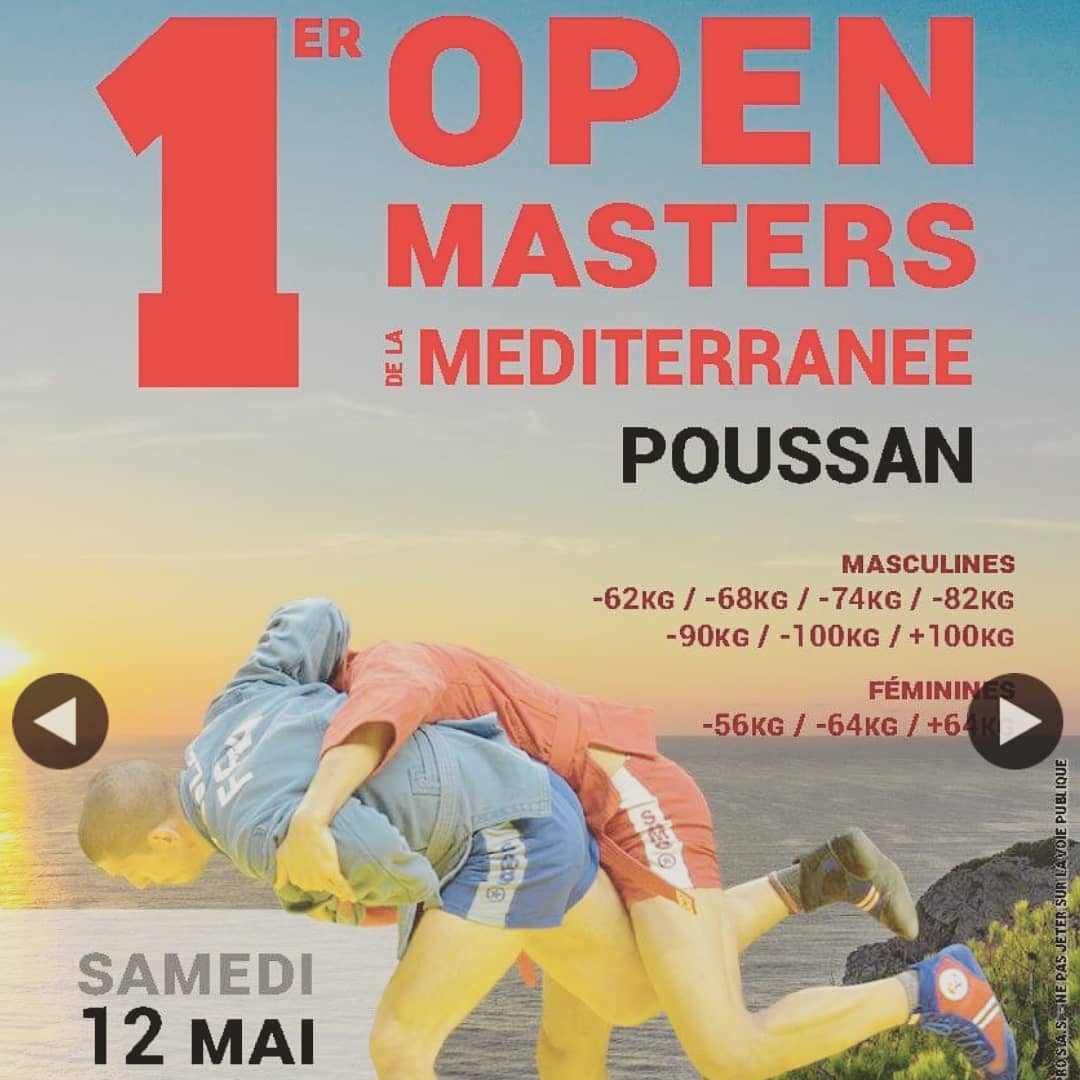 Poussan, France, May 2018
       I competed this past weekend in Poussan, France, at the 1st Mediterranean Sambo Championships. I won 5 matches to win the 90 KG category. I did very well, winning 3 matches by submission; armbar, knee crush, and achilles lock, and the other 2 by points, 8-0 and 7-0. I am very happy with my performance, but even happier and amazed by how nice I was treated by everyone in Poussan! Someone had joked that I may have been the 1st american to visit Poussan lol.
      One thing that stood out from any competition I have been to is that the competition was over at 5pm, and I was told there would be food served after. I assumed this meant something simple. I saw some cheetos and nuts and sangria, and thought that is nice of them, but then out of nowhere appeared trays of fresh oysters, pots of mussels and white wine and more sangria. Wow! That was incredible because I love seafood and this was amongst the best I have had. But this was only the begininng, part of the gym was now set up with tables and now more food, pasta, sausage, red wine, the best cheese, desserts, and rum. This went on to after 11pm! I am amazed by this type of party after a competition. This was to be followed by more drinks at Guillaume's home. He has traveled and competed the world over, and seemed to have a bottle of alcohol from each country and we tried them all
   Special thanks to Guillaume Alberti for organizing the tournament, letting me train at his club, and for having me stay as a guest in his home. Guillaume and Laure Fournier went out of their way to make me feel at home and to experience the true culture of the south of France! They are great sambists, friends, and exceptional hosts. Merci!
    It was also nice to meet and spend time with Laure Fournier, Maria Guedez, Matt, Sebastion, max, and everyone from Montpellier Sambo club.
      For this tournament I asked my long time friend, sambo brother, and coach Stephen Koepfer if I could honor our friendship and represent his club New York Combat Sambo. I have trained there so many times over the past 15 years and he is the one who introduced me to Sambo. I liked the added pressure of representing his club and it motivated me to perform at my best.
      Otherwise thanks to everyone that put on a sambo jacket and helped me train, especially Jeremy Piaser, Paul Tramontana, Chris Mesonero, Kyle Nigro, the guys at NYCS and everyone else.
I had a great time, a truly great adventure, I feel 15 years younger and couldn't be happier.
I'm bringing home the trophy for my son Peter as I promised him I would!