January

Grand Cayman Seminar
In January 2017 I visited The Cayman Islands for my 3rd seminar, this time at 1 More Round Martial Arts. I always like the vibe of training and teaching in the islands, and grand Cayman is starting to feel like a 2nd home! It was good to see and train with my old friend Flloyd Moxam and the rest of the other guys. Flloys is a good coach that cares about his students training and progress and is developing a nice team. This trip was more of a holiday than an intense training vacation (if that exists). I don't have any pics from the seminar, which is a shame because 1 More Round is a beautiful facility and a huge upgrade from the previous location of Cayman Fight Factory. It was nice to see my friends Jesse Livingston and Tristan W., who are now running a different gym. All great people and I had a great time teaching, training, sailing, swimming with the rays, turtle farm, crystal caves and exploring just about everything on the island!
February
Welcome Wantagh Martial Arts to our Dojo! (see my previous post about our merger)
April

2017 USA Sambo nationals
  Congrats to Jeremy Piaser for winning Bronze at the USA Sambo Nationals! I really have to get Jerem'y Bio and medal list up here, he's won or medaled in just about every tournament that he has competed in. He's a great instructor at our gym and fierce competitor.
September
Shuai Jiao

  I have competed just about every year since 2005 except 2006 and 2012. My mother had some illness in 2017 that required me to look after her, and that kept me pretty busy, along with a family and a Dojo to manage. I still had the urge to compete in something so I signed up for the USA Shuai Jiao Championships. Shuai Jiao is a Chinese martial Arts which basically involves trying to throw your opponent to the ground to score points, with no grappling on the ground allowed. i decided that because the tournament was to be held 20 minutes away in Queens, that I would go and give it a try. Unfortunately, I went to the tournament to find out that nobody else had signed up for my weight class. The rest of 2016 kept me very busy, and I did not get a chance to compete this year.
October
Peter's 5th Birthday!

   My son peter turned 5 years old on October 9th! We had his Birthday at the Dojo and invited all of our young students. My son loves Batman, hates The Joker, and at 5, still believes that they are real! I had my friend Eric Fuchs, who is an aspiring stuntman and current Karate instructor, dress up as Batman and formulate a choreographed fight sequence. Instructors Shannon and David dressed as The Joker and Harley Quinn. We had them try to steal the presents at the party and then batman showed up to save the day! It was awesome and I will post a link to the video. It was so much fun and the acting and fighting were very well done! Thanks Erc, Shannon, and David for making my son's party great!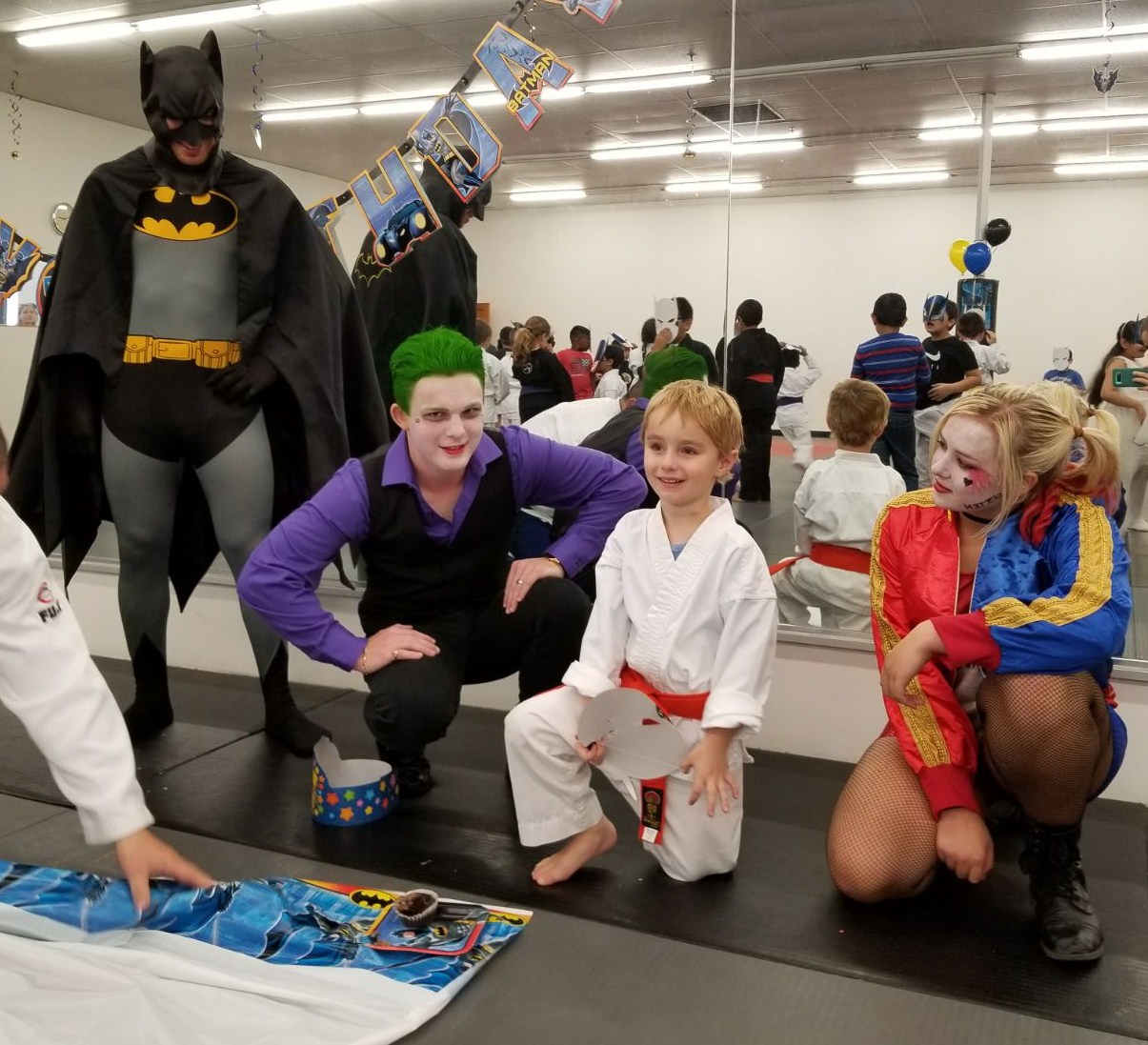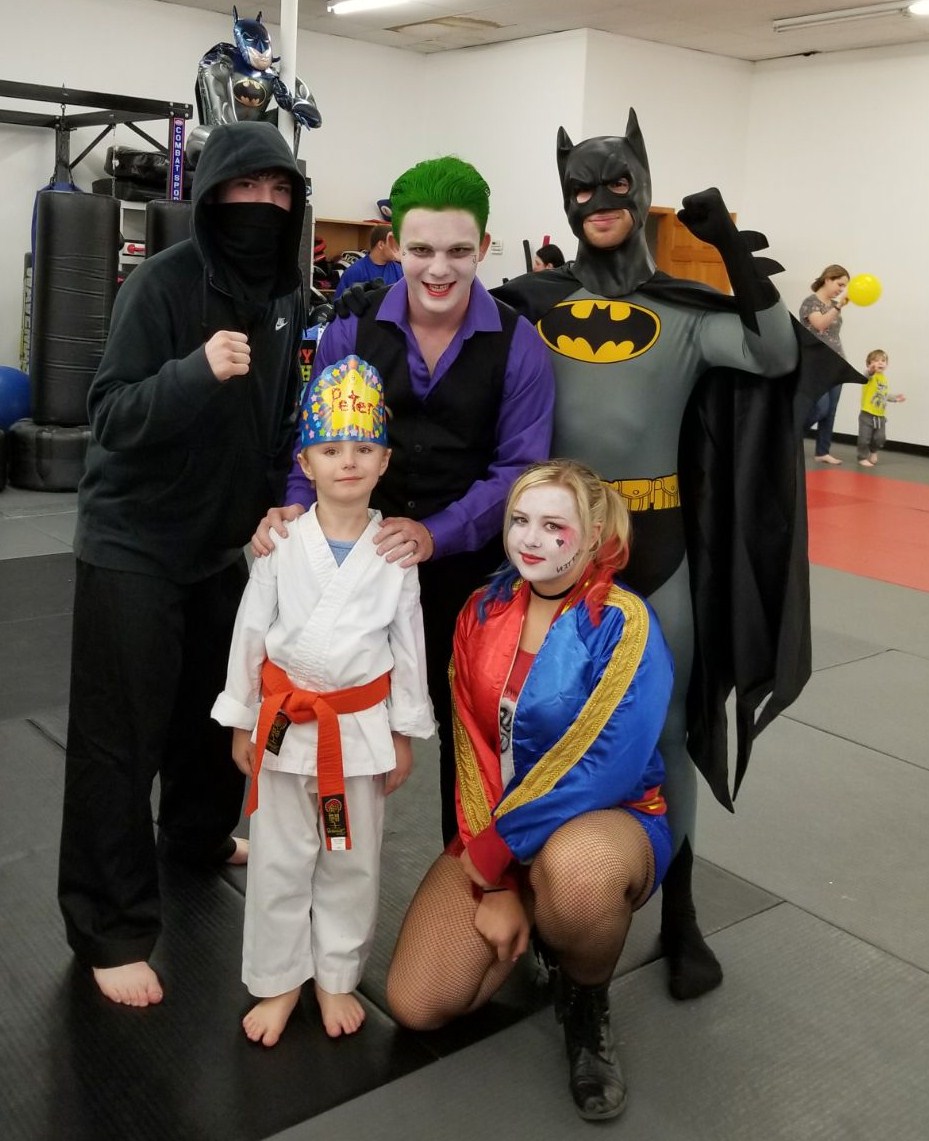 December
R.I.P. Robert Follis

  Rest in peace coach Robert Follis. I was sad and shocked to find out my friend Robert Follis passed away in December 2017. Robert was an amazing coach and person who had a gift to connect with and inspire others. I only had a chance to train with him for a few weeks back in 2003 and 2004, but the lesson I learned from him on coaching, training, and life, have continued to serve me and my students well. Not only did he change my approach to training, but he inspired me to question what I believed I was capable of, and to push through new limits. Like so many others, my life is better from having known and trained with him. Thank you and rest in peace my friend.